*********Welcome to my course on Federal Government Contracting!*********
With over 35 years in Federal Government contracting, I can help you navigate the minefield of regulations, myths and misinformation while giving you the tools to win your first contract, provided you have a quality product or service they need. And with a $600 Billion/year budget, they buy almost everything ($130 Billion of it from Small Business!)
Course consists of 6 Topics & 80 Downloadable Guides. LIMITED TIME OFFER: Purchase complete course for $99 (reg $199), or individual Topics (see below) @ $24 ea (reg $49). Topic#1: Fed Procurement Overview & Registering in SAM.gov included with all purchases
****Also Have Unlimited Access to the Instructor and a 30 Day Money Back Guarantee!****
A Description of Each Topic (View Videos Below):
#1. Fed Procurement Overview and Register in SAM.gov for maximum exposure; Fed Acquisition Regs; Advanced Search Techniques for Opportunities matched to your Biz
#2. Get Certified: 8(a), HUBZone, Veteran Owned, Women Owned; Disadvantaged Biz Enterprise (DBE)
#3. Marketing to the Feds: Network Mktg (Face-to-Face, LinkedIn), Target Mktg (Agency, Local Military Base), Branding, Capabilities Statement, Elevator Pitch
#4. GSA for off-the-shelf-items: GSA Advantage, Multiple Award Schedules, GWACs, Blanket Purch Agreements
#5. Bidding: Prime vs Subbing vs Joint Venture, Bid/No Bid Checklist, Pricing Proposal: Avoid the mistake 90% of bidders make; How to write a winning Tech proposal
#6. a. Accounting for Gov Contractors; FAR & DCAA Regs, Audit Prep; b. Financials: Business Ratios, 10 ways to finance a biz, Cash Flow Mgmt, SBA Loan Guar Program; c. Bonding (Bid, Ancillary & Performance Bonds), Increase bond capacity with the SBA Bond Guaranty Program
**************PREVIEW INDIVIDUAL TOPICS BELOW*************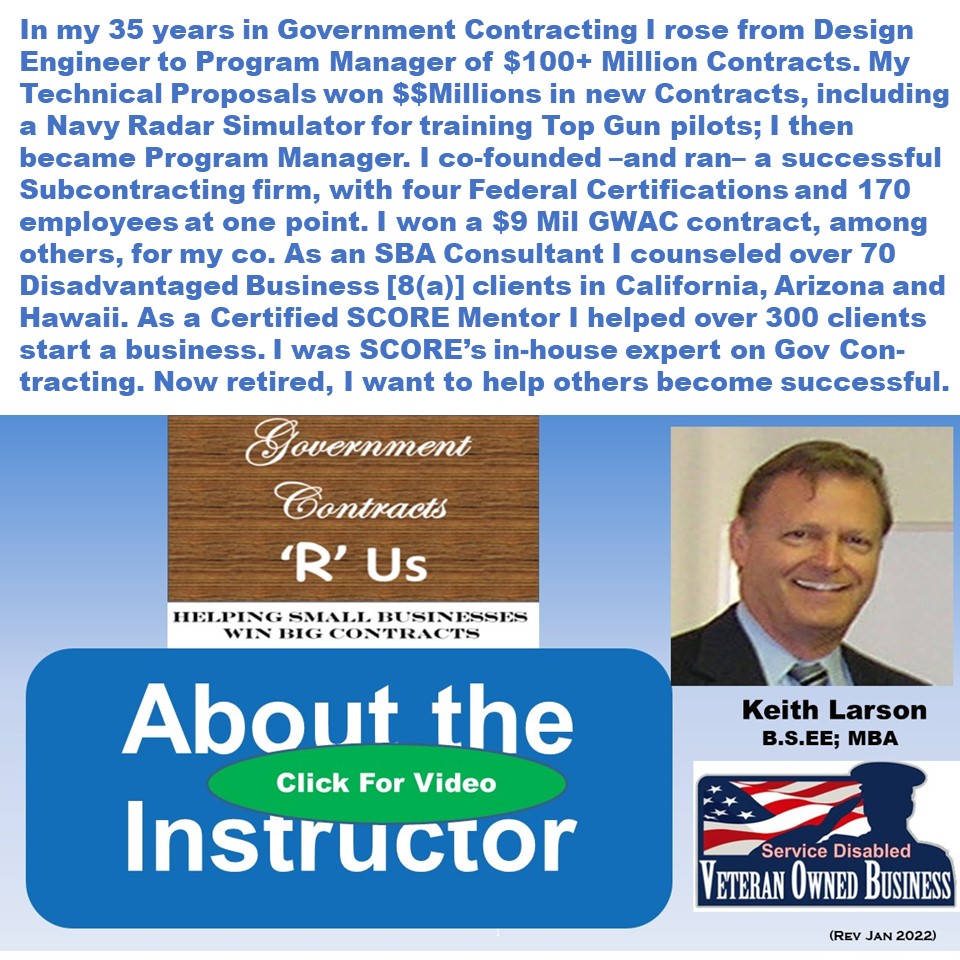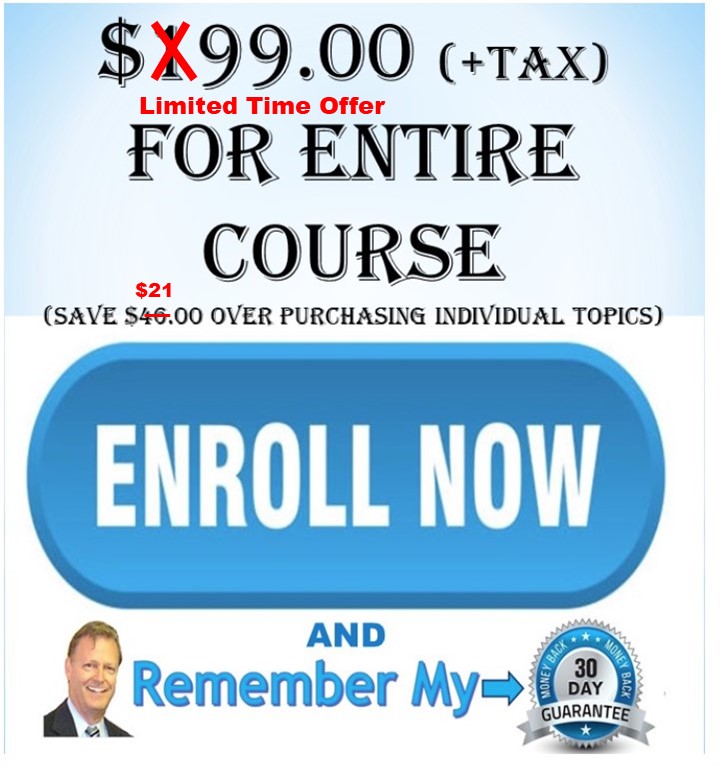 Or $24.00 for Individual Topics
(Limited Time Offer).

Click on Topics Above for short Videos
Your Timing Couldn't be Better!
If you are a Woman-owned or Minority-owned Business you may qualify as a Certified Disadvantaged Business Enterprise (DBE). The largest Federally-funded Infrastructure Program since the 1950s will increase the demand for subcontractors of all types -especially DBEs- at the State level. My Course will help you understand the government procurement process, including how to get certified as a DBE so you can go after those subcontracts


Check your inbox to confirm your subscription